Introducing the
Mirage Marine Recorder
The Mirage Marine Recorder (MMR) is designed to meet the performance, capacity and reliability requirements of major 3D and full-wave marine seismic data acquisition and processing. The marine data recorder provides up to 30TB of capacity for enhanced exploration resolution and around-the-clock operation. The MMR delivers up to 150MB/sec sustained recording and retrieval speeds, 3TB of virtual tape storage eliminating media management, and RAID 5 or RAID 10 for fault tolerant protection. All of this in a small 2U rackmountable footprint.
Transparent Operation – The MMR appears as an IBM 3590/3592 or LTO tape drive to the data acquisition systems providing plug and play compatibility. The ability to process directly from the high performance RAID greatly increases the throughput of existing acquisition systems. The MMR implements a Virtual Tape Autoloader with multiple virtual tape volumes. MMR automatically loads the next virtual tape volume upon executing the unload command from the acquisition system so the next blank volume is instantly available for recording. Each virtual volume can be loaded manually using the operator front panel. The data on the RAID is recorded in actual tape format. All tape formats are supported including SEG-D, Rev. 2 Technical Standards.
Simultaneous Tape Archive – The MMR can archive recorded virtual tape volumes to conventional tape drive cartridges during the capture process. Tape archival can also be initiated using the operator front panel. Up to 4 mixed or same model tape drives can be used for archive. The tape cartridges created are 100% identical and compatible with the tape drive directly attached to the seismic processing system. Operations include Archive, Archive and Verify and Verify Only
Real Time Monitoring - MMR dual port capability provides for real time processing or QC software accessing the virtual tape volumes while recording.
Higher Level of Data Protection – MMR automatically write protects recorded virtual volumes until they are successfully archived.

MirageMR Specifications
Mirage Marine Recorder
The MMR is available in a 2U Rackmount configuration consisting of a 1U MirageMR controller and a 1U RAID system. The RAID system can be configured as a RAID 5 protected 3TB volume or a RAID 10 protected 2TB volume, depending on the level of fault tolerance and performance desired. The 3TB capacity is divided into user configurable tape volume sizes.
Product Highlights :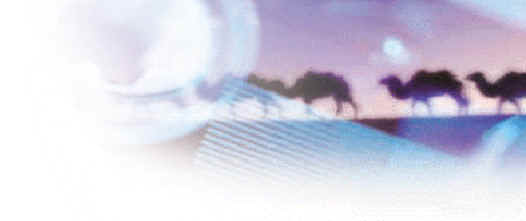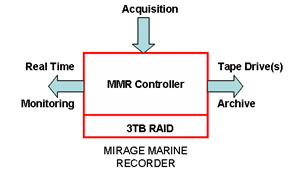 Seamless Scalability – Additional capacity can be added in 3TB increments by adding 1U high RAID modules. The MMR will create additional virtual volumes utilizing the added capacity automatically.
Around-the-Clock Operation – The MMRs increased capacity of up to 15TB and 1000 virtual tape volumes insures continuous data recording
MDR ENVIRONMENT
| | |
| --- | --- |
| RELIABILITY | |
| MTBF | 100,000 HRS |
| MTTR | 30 minutes |
| | |
| --- | --- |
| TEMPERATURE | |
| Operating | 5 degrees C to 50 degrees C |
| Non-operating | -40 degrees C to 60 degrees C |
| | |
| --- | --- |
| HUMIDITY | |
| Operating | 10% to 80% non-condensing |
| Non-operating | 10% to 90% non-condensing |